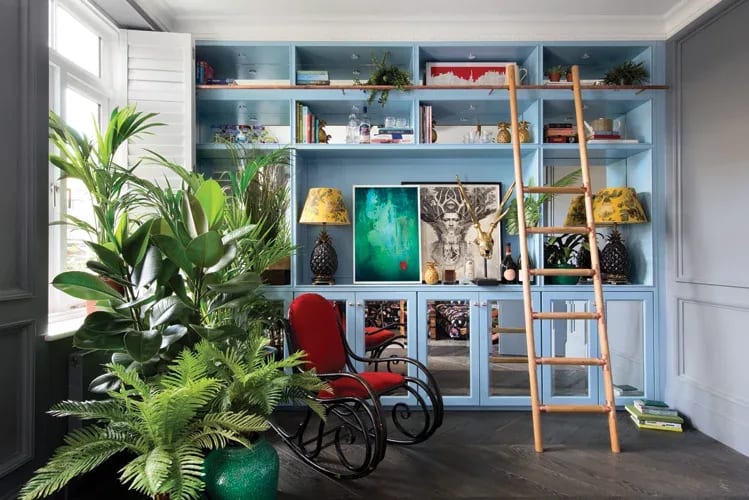 According to Roisin Lafferty, the talented founder and creative director of Kingston Lafferty Design in Dublin, Ireland, color is the single most transformative tool in interior design. "It can dramatically change the look and feel of any space. We got to have fun with color here," she says about a renewed two-story apartment in a London townhouse that originally lacked personality, character, and charm.
Lafferty describes the former interiors of the roughly 1,000-square-foot space as standard and plain. "The client already had the bold and brave House of Hackney sofa with so many colors, which allowed us to be all the more creative," she says.
The clients—a Finnish husband and his Irish wife—met in London where they've lived for the past decade and had their young son. "The bustling, creative area of Hackney, East London is a place that is close to both their hearts. They wanted to create a fun-filled home that embraced the context of the location," says Lafferty. "In terms of style, both have an appreciation of art and design and they were extremely open to color, pattern, and playfulness; the ideal clients!"
The apartment was completely redesigned with a focus on custom built-ins and other distinct features like the playful selection of furniture and lighting. New floors and freshly painted walls appear throughout, while an eclectic blend of styles combines market and vintage finds with contemporary elements, industrial references, and luxe details. "The main objective was to create a space that expressed the clients' interests and personalities and one that would not date over time," says Lafferty.
The monochrome patterned tiles provide a visual guide through the apartment spaces. "We wanted to draw your eye to the dining space and be playful here. We sourced a traditional gilded mirror to reflect the copper Tom Dixon pendants and opted for a pop of neon yellow on the mirror and the wall behind it," she says. The artwork was a big color contributor as well, adds the designer, who worked with Hackney-based gallery Nelly Duff to get the right combination of prints.
In the kitchen, the subway tile makes its way to the high ceiling to create symmetry and frame the space. There, the original London tube tiles, which feature beautifully curved edges, surround a mirror-backed, illuminated alcove accessed by a custom ladder that travels through the kitchen and the lounge.
The lounge, which was meant to be more intimate, features generous proportions that allowed them to mix various prints and tones. Dusty blue appears on the walls with a brighter sky blue on the custom cabinetry, while mirrors reflect pattern and color around the space. A dark, chevron timber floor lends balance and depth.
"We wanted to deliberately play with 'maximalism' in this space," says Lafferty, who counts Italian and Spanish designers among her favorites. "It was a space that lent itself to a 'more is more' approach. Taking reference from designers like Gucci and Dolce & Gabbana, when done right, mixing clashing prints and colors can create excitement, fun, a
nd drama."
Repetition is definitely not in Lafferty's repertoire. Instead, the designer likes to push the boundaries for interiors that are unique to the client and to the context of the space. "Sometimes the details make a project, and, in this case, it was getting all of those transitional details perfect. That is what makes it work in such a small space," she says. "We are really happy with the depth and level of interest. It feels very [homey], which is what the client wanted, and it really is an environment that you want to spend time in."